Opportunities
»
Worldprofit A.I.
»
Free Associate Membership
Products and Services
»
Super Solo Ads
»
Extreme Traffic Pack
»
Fiverr Store
»
Amazon Associate
Free Stuff
»
Instant Traffic Generation
»
Internet Marketing For Newbies
»
FREE Classifieds
Free Traffic Packages
»
18 Memberships FREE for LIFE
»
500,000 Mega Ad Credits
»
Promote To ONE Million
Brought To You By
Anthony Nelson-Bey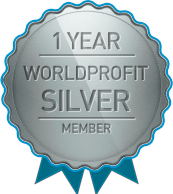 Published by: Anthony Nelson-Bey on 01-Jul-23
How To Use Worldprofit's Landing/Squeeze Page Builder
This software was developed by our own George Kosch and although very easy to use incorporates a number of customization features not offered by other products on the market. One thing George insists upon when developing software is simplicity. In keeping with that, this software is easy for anyone to use, takes minutes to create, landing pages are created with ONE CLICK. You can also create splash pages and exit splash using some of the advanced features.
Worldprofit's Landing Page Builder is INCLUDED in your Silver or Platinum VIP Membership. Retail value is $297.
The Landing Page Builder software allows you to create unlimited BEAUTIFUL landing pages (for ANY business) - within minutes!
-Really. In MINUTES! No exaggeration.
-Super-easy for EVERYONE to use.
-No technical or graphics expertise required.
-optins for your email marketing lists are easily integrated
-You get to pick the template from a Gallery, add in your own headlines etc. Press SAVE.
-Create landing pages with video or without, simple or fancy, text or graphics. All EASY!
-Create unlimited professional eye-catching pages
-The landing pages are contained WITHIN your website domain address (not someone else's) - CRITICAL for your own promotion purposes
Why is this software so  valuable to you?
Landing pages generate LEADS. Leads build your list.  Leads and lists generate SALES! 

Many of our Members are involved in a number of different programs or affiliates and the one thing you need no matter what program you are in, is LEADS.    Landing pages are critical for generating leads and building your email marketing list. For any of you who have tried creating your own landing pages you know how time consuming it is with a steep learning curve, some requiring advanced technical or graphics expertise.   Worldprofit's Landing Page Builder will save you time, money and headache while assisting you to generate leads for any and all your online affiliate programs.

George Kosch has recorded a help video so you see for yourself how easy it is to use Worldprofit's Landing Page Builder.
Here's how to access the Landing Page Builder and get started.
1. In your Member area....

On the LEFT MENU, select MONEY MAKERS, then click on LANDING PAGE BUILDER.

2. Watch the Help Video BEFORE you get started please. Seriously PLEASE watch the video s you know what you are doing. 
--

--Software Update -  December 2014.
Worldprofit's Landing Page Builder - Ad Tracking System added to the Landing Page Builder
- The tracking works with ALL landing pages you build - for any of your business ops, affiliate programs
- Easy to use
- The Tracker identifies referring URL, IP Address and the time your page was viewed.
- Fully automatic -  you don't have to do anything to activate it
Simply create your landing pages, promote them,  and the Ad Tracking is automatic.
Know right away where you are getting clicks from!
Check your Ad Tracker data to know instantly which are your best producing advertising sources. 
No more guessing what is working and what's not, just check your Ad Tracker for the real data.
Here's how to access and get started: 

1.  In your Member area, on LEFT MENU click on WEBSITE MANAGEMENT then on LANDING PAGE BUILDER,  then look on the Yellow MINI-MENU select "LP BUILDER TRACKER."
2. Once in that section, watch the short screencast video by George Kosch.
Here's a direct link to a Video Overview (5 Minutes):   http://www.worldprofittube.com/video.cfm?videoID=103
This value added service is included in both Silver and Platinum VIP Memberships.
Note: The Tracking will be added to all NEW Landing Pages you create since the addition of this new tool.
To have Ad Tracking to any landing pages you built PRIOR to this new tool, submit a Support ticket and request that AD Tracking be ADDED for your older landing pages.  
Resource
Yours In Success,
George Kosch
George Kosch is co-founder of Worldprofit and has been in business online for over 20 years.